From the airport
Brussels is served by two airports:
Brussels Airport, 14 km from the city centre, is the main airport of the country and welcomes most international flights.
Brussels South Charleroi Airport, 46 km from Brussels, is the second airport serving the city of Brussels. It welcomes low-cost companies.
From Brussels South Charleroi Airport, the easiest way is to take a shuttle bus (55 minutes) which will take you to the Brussels-Midi train station (15 minutes by metro from the RBINS).
Brussels Airport is situated in the north-eastern part of Brussels.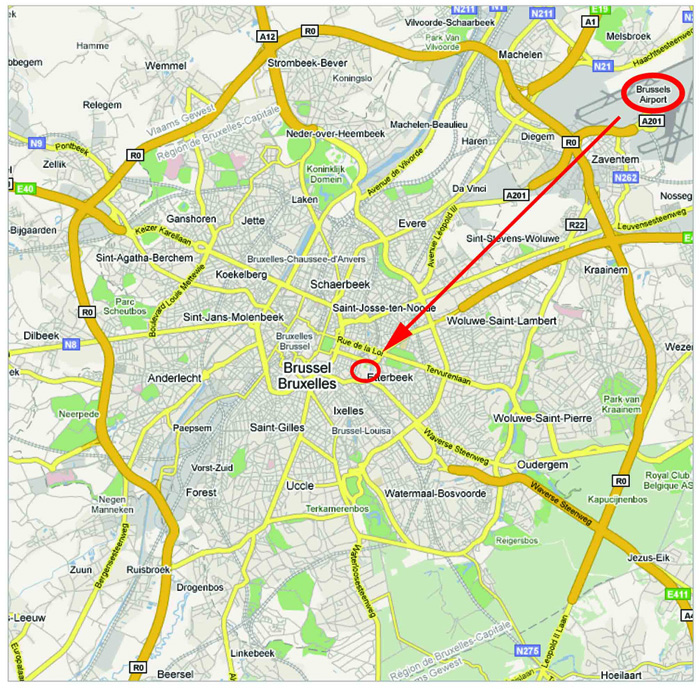 Three main options are at your disposal (http://www.brusselsairport.be):
Train
The SNCB company now offers a direct train from the airport station (located under the terminal, basement level -1) to Brussels Luxembourg station (about 5-7 min from the RBINS, see here). Up to 2 trains per hour connect the airport to Luxembourg station in about 20 min. A one-way ticket costs approximately 9 EUR.
Bus
A bus can also help you to reach the RBINS. The bus station is located on level 0, one floor below the arrivals hall and is easily accessible by escalators or elevators.
The bus company STIB/MIVB operates an Airport Line which is a 30-minute express service between Brussels Airport and the European quarter. However, the bus may be blocked in traffic and it may take longer to reach its destination.
From Monday to Friday 8 p.m. the Airport Line is number 12 and serves the main stops. On weekdays after 8 p.m., Saturdays, Sundays and public holidays, the Airport Line is number 21 and serves all stops.
One journey will cost 7.5 EUR. However, you will also need to buy a MOBIB Card which costs 5 EUR.
You can buy a ticket before boarding the bus at the "GO" ticket machine on platform C. (tickets rates).
Taxi
This will cost about 45 euros. The address for the driver is:
Royal Belgian Institute of Natural Sciences
Rue Vautier 29
1000 Brussels.